"Attacking disabled people is the lowest display of power I can think of."
– Morgan Freeman
Disbanners is a Full Circle Arts project based around creative activism. The aim is to give Disabled People a voice through creating protest banners with well known marching banner artist Ed Hall.
Initially we invited Disabled People to contact us with ideas for protest banners. Here are some examples of the banners we received: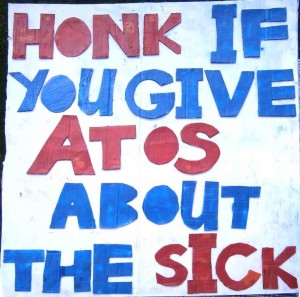 Once the conversation about Disbanners was underway on Twitter and Facebook using the #disbanner hashtag and we started to receive more suggestions for banners, we put a call out for participants to come and join us on a Protest banner workshop.
The Disbanner workshop with artist Ed Hall took place at the People's History Museum on 6th August 2015.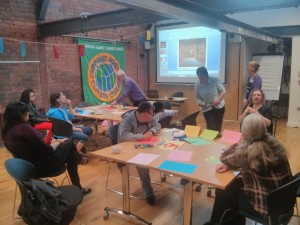 Gemma Nash blogged about it here on her website
"Disbanners is a fantastic project working with disabled people across the North West to design large scale banners addressing issues of disability and austerity. The project is a great way to give a voice to those most affected by the cuts to services and benefits that help Disabled and Deaf people to have independence."
(Gemma Nash)
The workshop leader was the banner maker Ed Hall. Ed Hall is Britain's leading designer of marching banners for trade unions and other campaign groups and has worked closely with Jeremy Deller. His work can also be seen in many galleries. You can see some of his work here:-
http://www.phm.org.uk/whatson/on-the-march-an-exhibition-of-banners-made-by-ed-hall/).
The workshop featured making banners, but also lots of discussion along the way.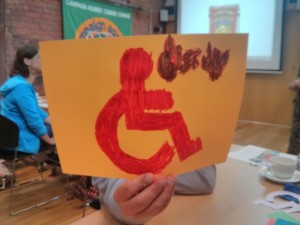 The aim was for participants to design and make their own individual placard as well as working together to design a large-scale banner that Ed Hall will put together.
The workshop was open to disabled people aged 16+. 
Danny Start, one of the participants said this about the workshop…
"The workshop highlighted that there is more than one way to make a powerful, political statement.  Ed's guided tour through the history of his collaboration's showed how the multiple layers of thought in any active, political movement can be illustrated boldly and straightforwardly.
'Ed is an engaging speaker and imparts his knowledge in a listening way- all the workshop participants contributed in their own individual fashion, and Ed integrated their ideas and feelings into the beginnings of a striking and meaningful design. Everyone present brought something fresh to the workshop, creating some fascinating discussion. I think there's going to be a great banner produced, one which will be used again and again to highlight the injustices Disabled people are experiencing. I'm excited to see it finished.
A quick big-up to the venue: the People's Museum is the ideal place for workshops like this. It holds a wealth of information on the history of the British working classes, Trade Unionism and Socialist politics. It's a welcoming place and a pleasure to walk into."
Chris's banner would say, "It's not my impairments that make me vulnerable, it's this Government"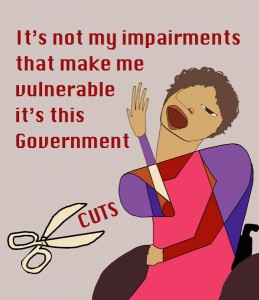 What would yours say?
The final outcome of the Disbanners project will be a large-scale banner designed by the group and put together by Ed Hall.
Watch this space for the final banner!