In November 2014 we supported artist Hardeep Pandhal in making a new work titled 'Profane Illumination'. This video piece was exhibited as part of Hardeep's first solo show, 'A Joyous Thing With Maggots At The Centre' at Castlefield Gallery in Manchester. 
Alongside each new Full Circle Arts commission, we organise an engagement project that opens up the artwork to a new group of people. Responding to Profane Illumination, we ran four workshops with the Saturday Challenge group at Gorse Hill Studios. We wanted to draw on the theme of Coming of Age in Hardeep's work to think about role models and create colourful artworks to display at Gorse Hill Studio's 'Rhythm For Richard' celebration that marked the closing of the centre.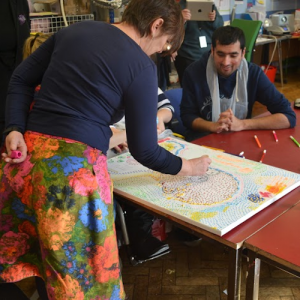 In week one Hardeep Pandhal joined artist Lynn Setterington to lead the group in a series of drawing activities. We wanted to forge connections between these two artists and to combine their creativity on a project. We also wanted the group to meet some practising artists, to see their work and learn about their experiences. Lynn tutors on the Textiles In Practice degree at the School of Art, MMU. She is also an internationally renowned textile artist, making illustrative, hand embroidered quilts and cloths.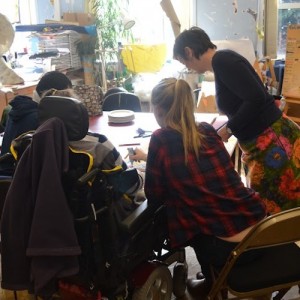 In the following weeks Lynn and a team of volunteers led the group in creating wonderful and colourful drawings of role models; from Gandhi through to Bruno Mars through to Mum and Dad. Taking inspiration from aboriginal art we covered canvasses in dots, lines and wiggles to make up images. We also used collage, paint and pens to add colour to a series of circular drawings that were then hung from the ceiling in the centre's performance space.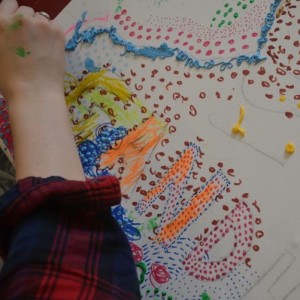 In the final week of the project we thought about all the role models at Gorse Hill Studios itself. The centre in Stretford runs art, dance, music, film and theatre projects; providing fun, positive experiences for 11 – 25 year olds. With two groups for young disabled people, the centre has affected the lives of many teenagers, their family and friends. Coming into the group, the friendships and bonds were clear to see. Due to funding problems Gorse Hill Studios has had to shut it's doors to its members, no longer having the funding needed to be able to provide the creative, energetic and impassioned support they give their young people, both disabled and non-disabled. In this situation it was even more poignant for the group to think about all the role models they had met at Gorse Hill Studios, including Richard who sadly passed away in January.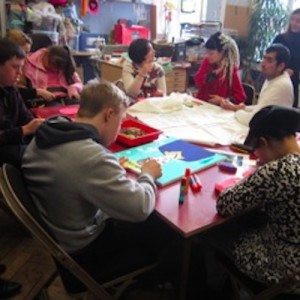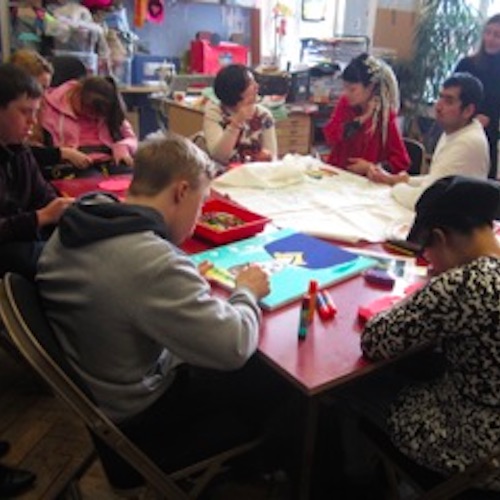 Gorse Hill Studios are fighting to stay around and are positive about their future. If you would like to pledge support or can help in any way, get in touch via their website http://www.gorsehillstudios.com/