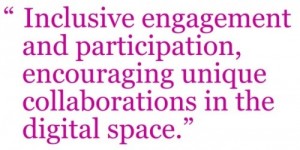 Full Circle Arts are a disabled led organisation who work to involve those who are excluded from the arts, firmly believing that great art should be available to everyone.
We provide inclusive opportunities that raise aspirations, challenge the norm and support success.
All of our work, from our website to supporting artists to community projects, is thoroughly inclusive and actively targeted towards disabled people, without segregating or labelling but with special attention to individuals and communities needs.
We believe in great art WITH everyone, we encourage inclusive participation to give people the capacity, inspiration and tools to be part of the cultural conversation and achieve excellence in the arts.
Full Circle Arts: Charity registration number-700918. Company registration number-2312426
Our Funders: