Box Society is a game, developed by Full Circle Arts and Playfuel, about our society and the pressures to fit in with different means and abilities. The aim of the project was to create a fun, irreverent, provoking game that challenged people's understanding and preconceptions about disability. During the development, we worked with a group of disabled artists and designers who passed on a wealth of stories about annoying access problems, form filling to prove your impairments and instances of everyday disablism.
Playfuel used this information as the starting point to create Box Society; a street game where you guide your box through a series of challenges full of hoop jumping, form filling, fitting in with the norm and aesthetic standards. Hosted by actors playing the Mayor of Box Society, the Bureaucrats and the PAs, players had to complete funny and ridiculous challenges to be accepted into society;
'All boxes from this point on must sparkle in some way. A lack of visible sparkle is simply unacceptable'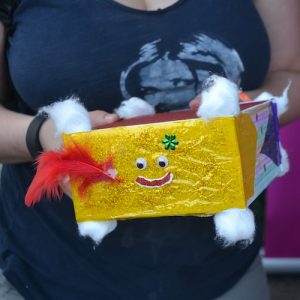 'Sometimes in life we require a guide. Find a PA and ask them to guide you to your next destination. Warning: some PAs are more helpful than others"
And
'This next journey requires you to take your box to your next destination without touching it with your body – in ANY way. This is a reasonable request and the Bureaucrat expects you to comply.'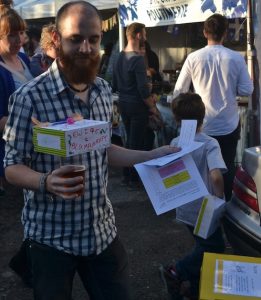 We were delighted to run the game at Hazard Festival, in St. Ann's Square on the 9th July, and at Levenshulme Community Market, on July 29th.
Hazard is a biennial micro-festival of intervention and sited performance, seeking to blur the boundaries between art and activism. Although it bucketed it down with rain for most of the morning, the skies cleared and we ran Box Society for the first time. During the day over 60 people played the game, from small children to OAPs!
It was great to see people waltzing around St.Ann's square, skipping along with their PAs and really getting into the challenges.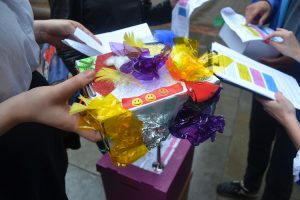 We ran the game for a second time at Levenshulme Community Market, a community minded collective who run a market every Saturday and who seek out community incentives to include. Thanks to a gloriously sunny evening, the market was packed full when we played Box Society, giving it a really different feel. We had people running around the market to find the challenges and engaging onlookers with challenges where they needed help.
We'll be running the game for a final time on September 10th as part of Through The Mill – Ancoats Community Festival which will be taking place in the Halle building, St.Peter's, Ancoats
http://manchester.carpediem.cd/events/625503-through-the-mill-ancoats-community-festival-at-hall-st-peters/