18th June – July 2016 – Update
Silent Striker 
There's a lot of discussing before any film goes into the can and we always work in the African tradition as you can see Pete and Clive Hunte (Film and Digital Artist) hard at work as I take the minutes (and serve the food)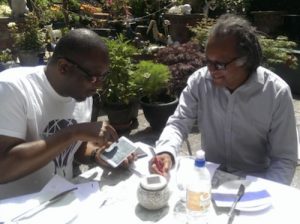 But on a more serious level there needs to be a lot of discussion because as Peter and I are discovering no idea is set in stone. While the original idea remains how we achieve it is by varying degrees of diversification. The more we investigate and brains storm the better the end result will be Eventually we move from talking to action which means filming it is very technical.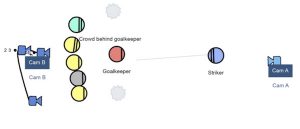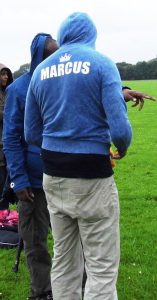 ---
18th June 2016 – Update
Silent Striker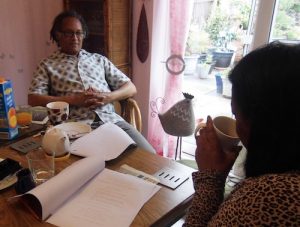 APRIL
Pete & SuAndi celebrate being awarded the commission.
MAY.
First meeting with Clive Hunte our most valuable team member as we are reliant on him to realise our vision digitally.
The main part of the discussion is cast members. We already have the main actor and now need to settle on someone to portray him as a youth and the manager. SuAndi makes a suggestion that is agreed upon.
Allocated Tasks
Pete to approach youth actor
SuAndi to contact disability schools for crowd scenes
Clive to research digital media
JUNE
SuAndi has secured the support of a football legend we are not naming who he is until the film is in the can so-to-speak
Clive purchases new digital media programs.
Pete works on the fourth edit of the script.
Location options are discussed
You can see from the picture we are hard at work
---
16th May 2016
Full Circle Arts is delighted to announce the following commission:
Film, poetry and photography.
The Silent Striker: (What A Piece Of Work Is Man) is a suite of works – including film, poetry and monologue, which celebrates football culture, Shakespeare's "What A Piece of Work Is Man" paean to human individuality, ingenuity and diversity, while interrogating exclusions at the intersection of disability and race.