August 2016 – Update by Jackie Hagan
Disabled people are not attending theatres and it's nothing to do with toilets and ramps.
When I decided to devise a theatre show I knew that accessibility must be at the core of the piece – I wanted to project subtitles onto the set, to write in such a way that AD was integrated rather than a stuck-on afterthought, and to put on relaxed performances. Then I realised I was working with presumptions I had made about accessibility – and that, actually, I needed to go out and talk to a cross section of people so I could truly make a show that put genuine accessibility issues at the core of its creation.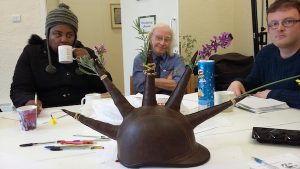 I had conversations with people with learning disabilities, mental health problems, physical disabilities and autism spectrum disabilities.
The most prominent issue presented by disabled people wasn't to do with ramps, toilets, AD, induction loops or any of the things we usually consider when we think about accessibility, but:
"I'm too skint to go the theatre."
One of the questions I asked was "What do you think is the average price of a theatre ticket?" Answers ranged from £5 to £120, the average settling at £45; most people were surprised that the average is in fact £23.77 – and at smaller producing houses the average is only £17.87*. This is without taking into consideration the many discounts available for under 25s and disabled people. Some people agreed that, this being the case (especially with some tickets as low as £5), if they hear about something they wanted to go to they would now consider it.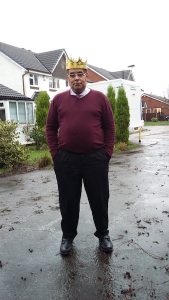 However many people still couldn't afford it. There was also a lot of concern from disabled people about proving to the theatre that they are disabled, especially in the case of invisible conditions and for people who do not receive DLA or PIP (the number of whom is increasing).
What can we do about it?
A lot of promotion for theatres is done in theatres. If we are to make theatre accessible for all then we need to start promoting further afield. Interviewees suggested the following: takeaways, community centres, doctors' waiting rooms, psychiatrists' waiting rooms, care homes, probation offices and hostels and as such I will be flyering in these places, with prices and discounts made prominent.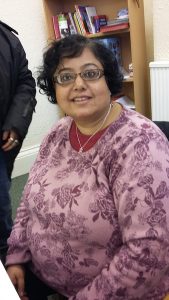 With regard to the issues around proving disability, I asked a number of theatres if they would accept a doctor's note instead of a benefits award letter; they all agreed that this would be fine. However, on some occasions, I needed to point out the reduction in successful PIP claims. I'm not sure if someone with anxiety or communication issues would be able or willing to push this point. I also became aware that some doctors charge as much as £15 for a doctor's note and that many people are anxious about asking for this. As part of my project I plan to write to all the theatres in the UK urging them to simply believe people if they say they are disabled; I believe that the majority of people would not take advantage of this. I'm also going to suggest that they consider discount schemes that cover the following groups, if they do not already: low income, unemployed, homeless and people who have never been to their theatre before.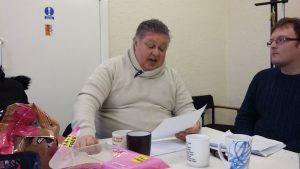 The second most prominent issue was also a step away from what we usually concern ourselves with when we think of accessibility:
"Theatre?! It's not for the likes of me."
I asked if this was because you rarely see disabled people on stage but, although people agreed that this is a problem, the real issue were about class, ethnicity, age and fear. "I wouldn't know how to do it properly", "They'd tell me to leave, they'd think I was on the rob!", "I haven't got posh clothes", "Black people don't go the theatre, that's for old white fellas and their wives… and the Queen!".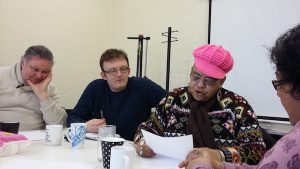 Lots of uncomfortable frowning and defensiveness. I know this feeling – it's not that you feel inferior, it's that you feel that the people you meet when you get there will see you as inferior, and that this will make you angry and taint the whole experience. It's the same feeling when you're presented with too much cutlery to make sense of in a restaurant. I really want to combat this.
As such I'm planning, as part of this project, to write a short booklet called "Theatre? No way mate, it's not for me" that is short, humorous, informative and pithy about my own experience as a council estate girl who works in theatre – I'll talk about the number of BaME and working class performers and writers there are in theatre, what the etiquette is (i.e. sit down and shut up, not much else) and the difference between big and small producing houses – as most people I spoke to were aware mainly of musicals and pantos. I'll also include discount schemes and disabled access information for local theatres.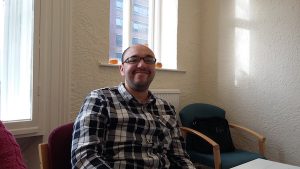 I plan to take a group from Bluesci to Contact Theatre in Manchester to see a production, to hopefully convince them that theatre can be pertinent to them. In terms of promoting my own show, I will, of course, include it in the booklet; but I need to think carefully about the design of the promotion material to ensure that the language and presentation do not exclude people, and to ensure my cosy-council-estate manner shines through.
*http://www.artsprofessional.co.uk/news/growth-regional-theatres-ticket-prices-rise
Photos: Some of the people I spoke to at Bluesci Arts and Well-being centre.
---
May 2016
Full Circle Arts is delighted to announce the following commission:
Jackie Hagan has been working with marginalised adults for 10 years and has watched the affect of austerity on their mental health. 'Jumble Souls' is an hour long solo show using the audio from vibrant conversations about resources, coping and retaining hope; using puppetry, poetry and comedy. Accessibility is at the core of this piece.