January 2017 – Update by Jackie Hagan 
Benefit cuts are hitting disabled people the hardest. Half of people in poverty are disabled or live with a disabled person. The future looks grim, so how can we get people to sit up, listen and care and not keel over with empathy-fatigue or boredom at statistics?
My way has been to make a colourful, dynamic show that features the real details and voices of proper skint disabled people who I have got to know. These aren't sob stories, they are fully rounded lives with the spiky humour and the complicated weirdness of the human condition.
Remember when jumble sales were all the rage? I loved the old ladies with the endless back stories for ornaments and the suitcases of old photos, hand knitted scarfs made by Nan in the wrong football colour, a shoebox of felt tips, a peculiar little chap who turns out to be a hand-sewn 70's womble. I'm bringing them back.
A massive game of 'Kerplunk' centre stage, an ongoing game of Shroedinger's Scratchcard, audience interaction, poetic comedy, comedic poetry and one underclass amputee steering the show.
I'm excited for the sharing of 'Jumble Soul' this coming February. I have unpicked and investigated what 'accessibility' means to people and found it a much broader challenge than I thought. After that I interviewed skint disabled people about their lives and found my heart break and mend again and again. I've been learning puppetry and found that I'm seeing personalities in every object. And this month I am meeting with a different expert in their field each week to learn more about what matters the most.
Last week I spent time with Hayley Greggs from Everyman Theatre who is the easiest person in the world to get on with and get stuff done with, we were all tea, flipcharts and post it notes and we unpicked the material and put it back together in a more effective art-mess. In case you are not sure – this is a Good Thing!
This week I am working with Jeni Draper on accessibility and I am really enthusiastic to explore innovative ways of making the show reach people usually ignored while still engaging the usual theatre goers.
In the weeks to come I am also working with Oliver Smart – puppeteer and puppet maker, who's course I have been attending. We'll be meeting in one of the well-being centres where I have been interviewing people which means we can hang out in the café and let Oli talk to the people whose stories we're telling in their natural habitat! I can't wait to introduce him to Tommy and Tina and everyone else and then sit in a room, surrounded by jumble sale objects, making representations that illuminate people's traits.
Following Oli I will be meeting with set designer Kat Heath who will advise me on my Jumble Sale Dream Stage ideas, and Alex Fernandes who is a lighting designer and will help us figure out a way for me to be on stage and be able to see (I am partially sighted and it is mega-affected by light).
And then on the 16th and 17th of Feb I will be sharing my ideas at Waterside Sale Arts gallery in Manchester.
https://watersideartscentre.co.uk/whats-on/1956-jumble-soul-work-in-progress/
---
August 2016 – Update by Jackie Hagan
Disabled people are not attending theatres and it's nothing to do with toilets and ramps.
When I decided to devise a theatre show I knew that accessibility must be at the core of the piece – I wanted to project subtitles onto the set, to write in such a way that AD was integrated rather than a stuck-on afterthought, and to put on relaxed performances. Then I realised I was working with presumptions I had made about accessibility – and that, actually, I needed to go out and talk to a cross section of people so I could truly make a show that put genuine accessibility issues at the core of its creation.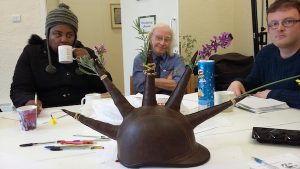 I had conversations with people with learning disabilities, mental health problems, physical disabilities and autism spectrum disabilities.
The most prominent issue presented by disabled people wasn't to do with ramps, toilets, AD, induction loops or any of the things we usually consider when we think about accessibility, but:
"I'm too skint to go the theatre."
One of the questions I asked was "What do you think is the average price of a theatre ticket?" Answers ranged from £5 to £120, the average settling at £45; most people were surprised that the average is in fact £23.77 – and at smaller producing houses the average is only £17.87*. This is without taking into consideration the many discounts available for under 25s and disabled people. Some people agreed that, this being the case (especially with some tickets as low as £5), if they hear about something they wanted to go to they would now consider it.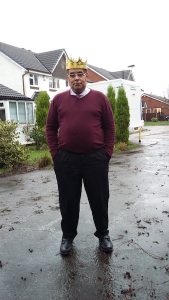 However many people still couldn't afford it. There was also a lot of concern from disabled people about proving to the theatre that they are disabled, especially in the case of invisible conditions and for people who do not receive DLA or PIP (the number of whom is increasing).
What can we do about it?
A lot of promotion for theatres is done in theatres. If we are to make theatre accessible for all then we need to start promoting further afield. Interviewees suggested the following: takeaways, community centres, doctors' waiting rooms, psychiatrists' waiting rooms, care homes, probation offices and hostels and as such I will be flyering in these places, with prices and discounts made prominent.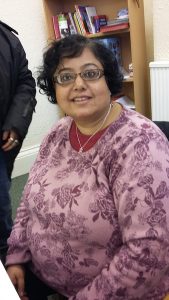 With regard to the issues around proving disability, I asked a number of theatres if they would accept a doctor's note instead of a benefits award letter; they all agreed that this would be fine. However, on some occasions, I needed to point out the reduction in successful PIP claims. I'm not sure if someone with anxiety or communication issues would be able or willing to push this point. I also became aware that some doctors charge as much as £15 for a doctor's note and that many people are anxious about asking for this. As part of my project I plan to write to all the theatres in the UK urging them to simply believe people if they say they are disabled; I believe that the majority of people would not take advantage of this. I'm also going to suggest that they consider discount schemes that cover the following groups, if they do not already: low income, unemployed, homeless and people who have never been to their theatre before.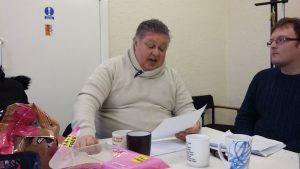 The second most prominent issue was also a step away from what we usually concern ourselves with when we think of accessibility:
"Theatre?! It's not for the likes of me."
I asked if this was because you rarely see disabled people on stage but, although people agreed that this is a problem, the real issue were about class, ethnicity, age and fear. "I wouldn't know how to do it properly", "They'd tell me to leave, they'd think I was on the rob!", "I haven't got posh clothes", "Black people don't go the theatre, that's for old white fellas and their wives… and the Queen!".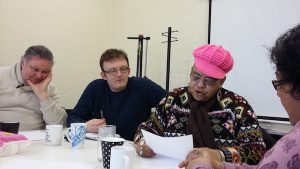 Lots of uncomfortable frowning and defensiveness. I know this feeling – it's not that you feel inferior, it's that you feel that the people you meet when you get there will see you as inferior, and that this will make you angry and taint the whole experience. It's the same feeling when you're presented with too much cutlery to make sense of in a restaurant. I really want to combat this.
As such I'm planning, as part of this project, to write a short booklet called "Theatre? No way mate, it's not for me" that is short, humorous, informative and pithy about my own experience as a council estate girl who works in theatre – I'll talk about the number of BaME and working class performers and writers there are in theatre, what the etiquette is (i.e. sit down and shut up, not much else) and the difference between big and small producing houses – as most people I spoke to were aware mainly of musicals and pantos. I'll also include discount schemes and disabled access information for local theatres.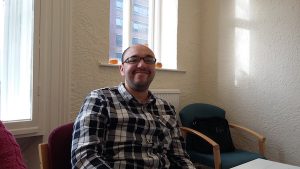 I plan to take a group from Bluesci to Contact Theatre in Manchester to see a production, to hopefully convince them that theatre can be pertinent to them. In terms of promoting my own show, I will, of course, include it in the booklet; but I need to think carefully about the design of the promotion material to ensure that the language and presentation do not exclude people, and to ensure my cosy-council-estate manner shines through.
*http://www.artsprofessional.co.uk/news/growth-regional-theatres-ticket-prices-rise
Photos: Some of the people I spoke to at Bluesci Arts and Well-being centre.
---
May 2016
Full Circle Arts is delighted to announce the following commission:
Jackie Hagan has been working with marginalised adults for 10 years and has watched the affect of austerity on their mental health. 'Jumble Souls' is an hour long solo show using the audio from vibrant conversations about resources, coping and retaining hope; using puppetry, poetry and comedy. Accessibility is at the core of this piece.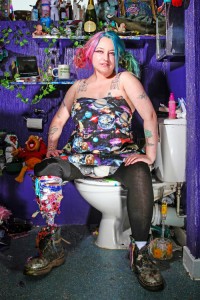 About the author


Jade Cole
Jade is our Supreme Digital Social Media Overlord. She does most of our social media stuff, all our main website stuff, looks after our artists on the phone, writes our newsletter, and she tends to tweet and blog a bit more than the rest of us. (Jade likes wine tasting in her spare time).