In collaboration with Stuart Childs, our Tinkerer in residence, we have put a wiki (http://sniject.wikispaces.com/ ) together as a central collaboration point for people to experiment with the SNIJ labs' laser cut plywood notebook project.
The design is shared under a Creative Commons Attribution ShareAlike 3.0 Unported license – for more details on the Creative Commons Attribution ShareAlike 3.0 Unported license: http://creativecommons.org/licenses/by-sa/3.0/
It sharing, it's creating, remaking, playing, discovering… and there are prizes
With the advent of laser and 3d printers, we no longer need to send physical things hundreds of miles, so long as there is similar enough tooling and materials at either end of the supply chain.
What does this mean for designing and making? How does having access to your own rapid prototyping shop, be it in your own workshop or local enough to keep shipping costs to a minimum, change the way we make things?
We want to see what happens when we share a particular design or technique amongst a group of people from different countries, backgrounds, with different interests and occupations. We already have 16 people and organisations who have joined the wiki and project. If you'd like to take part, or just have a nosey, all the info is here  ( http://sniject.wikispaces.com/ )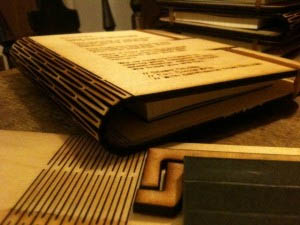 This project is running from 01 Feb 2012 – 01 May 2012 for designs to be entered into a competition to win prizes and be included in a final report / presentation about the project. The wiki will be left up after that to keep the designs shared and available to others.
We will be presenting this work at Future Everything 2012 festival in Manchester – highlighting how current technology and sharing practices are changing the way things are done.
To find out more visit the wiki and start collaborating!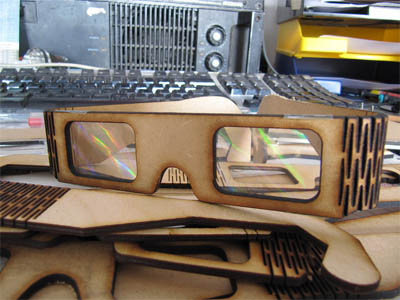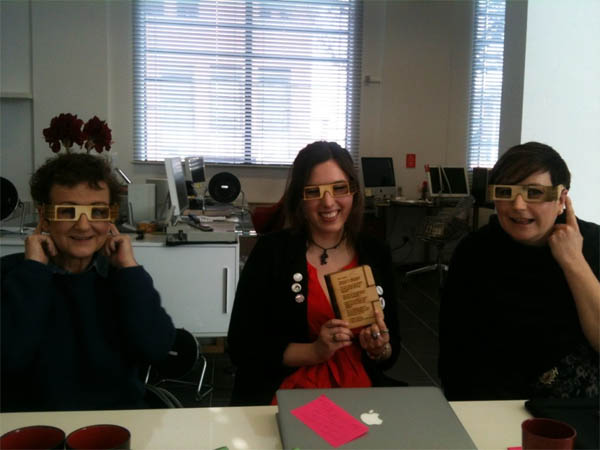 The FCA women sporting Sniject hinge glasses made by Stu our Tinkerer in Residence